Our processing
Our industrial specialty glass manufacturing including heat reflective glass & composite safety glass. some company are making with PVB chemical but Our company making with Resin chemical because Resin chemical are available many color including and better than PVB. This picture have been show what kind bullet proof glass what thickness because Our First Company in Pakistan to making many large square size Bullet and blast resistant glasses.
Glasses
First of all Bullet resistant glass is the most impotent think it which glass use for making. Extremely resistant to impact However, a usable thickness of bullet-resistant glass generally can't stop a bullet from a high-powered rifle. But our product first test on factory and customer satisfaction because bullet proof glass is it secure some life and we are no risk for life. then we use best and best quailty GLass. bullet proof glass making total 50mm glass (12mm+8mm+8mm+6mm+6mm+6mm) and 1mm resin chemical use then make it perfect and fully resistant.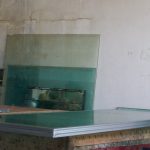 Security Glazing, in quality manufacturing, has emerged as the single source for all of your security and architectural glazing requirements. Offering a complete line of security products, including all-glass laminates, glass-clad polycarbonates and laminated polycarbonates, Global Security Glazing has the product and solution for all of your design challenges.
Global Security Glazing products are fully tested to specific standards and threat levels for projects requiring bullet resistant, attack resistant and blast resistant glazing, such as correctional facilities, embassies, courthouses, and hospitals. In addition our complete line of architectural products includes tempered glass, chemically strengthened glass, insulated glass, spandrel glass, hurricane glazing and curved glass products. All of our products are covered by our Single Responsibility Program, which insures one firm has handled all phases of manufacturing.
Bulletproof glass (also known as ballistic glass, transparent armor or bullet-resistant glass) is a type of strong but optically transparent material that is particularly resistant to being penetrated when struck. Like any material, however, they are not completely impenetrable. It is usually made from a combination of two or more types of glass, one hard and one soft. The softer layer makes the glass more elastic, so it can flex instead of shatter. The index of refraction for both of the glasses used in the bulletproof layers must be almost the same to keep the glass transparent and allow a clear, undistorted view through the glass. Bulletproof glass varies in thickness from three-quarter inch to three inches (19mm to 76mm).
At Security Glazing our service extends beyond our products. We offer assistance with design solutions, technical support, and customer service support from price quotation to product delivery.